Consuelo Castilla
Partner and Chairwoman of AdQualis
She is a graduate in psychology from the University of Barcelona. She participated in the Senior Management Programme at the IESE University of Navarra in 2006 and again in the course Women on the Board of Directors at the same institution in 2012.
Castilla Consuelo spent the early years of her career training in the field of search and selection in the HR departments of different companies. Following these years of experience, her entrepreneurial spirit led her to create her own company, MC Asociados Executive Search, to offer a quality selection that was geared towards meeting both customer needs and caring for and guiding candidates in their professional careers.
Starting in 1995, new companies joined MC Executive Search to form Grupo MC Asociados, now AdQualis. The company offers a high quality comprehensive HR service that is recognised by the major multinationals and SMEs in Spain who look for excellent service to select managers and middle managers for their companies.
In 2007 the HR Digital publication awarded her the "HR Influential figure in Spain" and in 2013, 2014 and 2015 she was listed among the top 100 women leaders in Spain. Ms. Castilla was also chosen to participate in Cesar Liesa's Barcelona and Madrid publication "Characters" in 2009 and 2010.
She is also advisor to the Social Board of the Pompeu Fabra University in Barcelona and a Patron of the Fundación Éxit. Moreover, she actively collaborates with the Vicente Ferrer Foundation.
Montse Castilla
Partner and General Manager of AdQualis Talent Search
The Montse Castilla's career has always been linked to the field of Human Resources. In 1987 she founded MC Asociados with Consuelo Castilla and Elvira Masso to provide specialised and quality executive search services.
Later, in 1996 she became manager of the temporary work company, ADIA Intergrupp in Girona and then moved to Select, another temporary work company in the same area.
In 1998 she rejoined the company to found and manage the new subsidiary of Grupo MC Asociados in Girona. Since 2001 she has been the Managing Director of Centil 90 Recruitment, now AdQualis Talent Search.
Jordi Larré
Partner and BDM of AdQualis HR Apps
Jordi Larré began his career as a programmer analyst in payroll software in several companies in the sector and in 1994, under the growing demand for integrated HR solutions, joined the Grupo MC to found Enter Systems, now AdQualis HR Apps.
Esteve Sabaté
Partner and CTO of AdQualis HR Apps
Esteve Sabate is a Telecommunications Engineer from the University of La Salle Bonanova in Barcelona and, after holding several management positions in multi-national companies such as Unisys and Olivetti both in Spain (Barcelona) and Italy (Milan), he joined the Grupo MC to found Enter Systems in 1994.
Since then he has been Partner of the Group and Technology Manager of Enter Systems, a company that has is now called AdQualis HR Apps .
Isabel Rubio
Partner and CFO of AdQualis
Isabel Rubio studied Finance and Accounting at the EAE Business School. In 2005, she joined the Department of Administration and Finance of the Grupo MC and in 2009 became the Financial Manager of the Group.
She became Partner of the company In September 2012 while continuing to work as CFO of AdQualis.
Anabel Obeso
General Manager AdQualis HR Consultants
Anabel Obeso estudia psicología en la Universidad de Barcelona y, posteriormente, continúa su formación en marketing, gestión de proyectos y derecho laboral en UPC, ICT y EADA. En 2010 participa en el Programa de Desarrollo Directivo del IESE Universidad de Navarra.
Su carrera la ha llevado a ocupar cargos en el ámbito de los recursos humanos en diferentes sectores. Ha sido Directora de RR.HH. y Organización de Corachan (2010 – 2015) y, anteriormente (1998 – 2004), fue Jefa de RR.HH. de Catalunya en Vodafone, cargo que simultaneó con el de Responsable de RRHH para la Unidad de Negocio de Puntos de Venta a nivel nacional.
Entra a formar parte del equipo de Business Developement de AdQualis Human Results en 2015 y, en 2016, se convierte en General Manager de HR Consultants.
Maribel Vioque
Socia y Business Director Excecutive Search Barcelona
Maribel Vioque es licenciada en Psicología por la Universitat de Barcelona y en 2008 realizó el PMD de ESADE. Se incorporó como Consultora a MC Asociados y después de diferentes roles, en la actualidad es Socia de AdQualis Executive Search Barcelona y Business Director.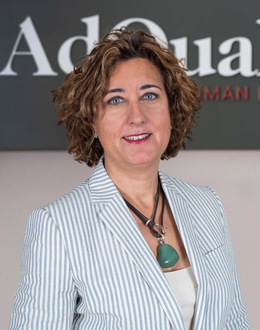 Neus Anton
Partner and General Manager of AdQualis Executive Search Madrid
She holds a degree in Psychology from the University of Barcelona, specialising in Organisation and Management. She has taught several programmes of Business Management and HR Development (University of Barelona, Bosch and Gimpera Foundation and Employer Associations of the Sector, among others). In 2016, she participated in the Senior Management Program of IESE University of Navarra.
She began her career in a IT services company to later join the CAE Group - Industrial Sector, currently the Grupo Dragados, with more than 5,000 employees.
Later she was head of the Department of Training and HR Development of a section of the Olympic Organising Committee Barcelona '92.
For over 10 years she held the post of HR Development Manager for Mutua Terrassa Grup (a Health Insurance Group with more than 3,000 employees) and also held this position in Cedipsa, a subsidiary of the Cepsa Group.
After taking on the HR Management of a Health Centre, she joined MC Asociados in 2006 as Business Unit Manager and became Manager of Executive Search Madrid in 2009.
She became Partner in 2014 and General Manager of AdQualis Executive Search in Madrid.
It carries out prospective studies on human behaviour in organisations to achieve full development and harmony in both
They are the awards that recognise the work of the most outstanding professionals for their involvement in several HR projects carried out within an organisation